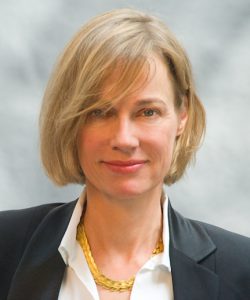 On 19 and 20 July 2021 the University of Cadiz hosted the international congress titled "Gender and Law in Practice and Education". The congress, held in virtual format, was the second multiplier event of the LAWGEM project. An important part of the conference was keynote presentation on impact of gender perspective on legal profession. Presentation was delivered by Prof. Dr. Juliane Kokott, Advocate General at the Court of Justice of the European Union.
Prof. Dr. Juliane Kokott, LL.M., S.J.D., holds the position of Advocate General at the Court of Justice of the European Union. Since October 2003, she has
been responsible for approximately 1300 cases and has delivered around 600 opinions, including opinions in cases concerning Gender and Law e.g. equal pay, surrogate motherhood, head scarfs and same sex families (cf. cases C‑19/02; C‑220/02; C‑313/02; C‑116/06; C‑231/06; C‑236/09; C‑356/09; C‑167/12; C‑157/15; C‑443/15; C‑558/17 P; C‑93/19 P; C‑223/19; C‑490/20). Prior to joining the Court, Advocate General Kokott was a professor at the universities of Augsburg, Heidelberg, Düsseldorf and St. Gallen, an interim professor at the University of Mannheim and a visiting professor at Berkeley Law. Furthermore, she was a Deputy Judge for the Federal Government at the Court of Conciliation and Arbitration of the Organisation for Security and Cooperation in Europe (OSCE) and a Deputy Chairperson of the Federal Government's Advisory Council on Global Change (WBGU). Advocate General Kokott is a graduate of the universities of Bonn, American University/Washington D.C., Heidelberg and the Harvard Law School. She has authored, co-authored and co-edited a broad variety of publications on European law and public international law, including e.g. Freedom of Religion and Gender Equality (2014 in German, with Ute Mager); Shaping Society under the Influence of Fundamental and Human Rights – Contributions to the Interdisciplinary Conference of the Association of the Auditors of the International Academy of Constitutional Law (2001 in German and French, with Beate Rudolf); The ECHR and the CJEU – between Social Engineering and Merely Applying the Law in Matters of Gender Equality (in French, with Judith Schamell), in: Dialogues between Judges 2020; The Status of Women through the Prism of the Case Law of the Court of Justice of the European Union (in French, with Jean-Marie Gardette), Revue de l'Union européenne, n° 629 (2019), p. 341-344; Legal Questions on Affirmative Action in Government and Business (in German, with Patricia Egli), Aktuelle Juristische Praxis (AJP) 12 (2020), p. 1485-1497; On Equality between Men and Women – German Constitutional Law and European Community Law (in German), in: Neue Juristische Wochenschrift (NJW) 41 (1995), p. 1049-1057. Moreover, Advocate General Kokott has actively initiated and organized several high-level expert conferences and symposia.