Human Rights Center of the University of Belgrade Faculty of Law, in cooperation with the U.S. Embassy, organized online lecture of Prof. Dr. Adrien Wing, the Associate Dean for International and Comparative Law Programs and the Bessie Dutton Murray Professor at the University of Iowa College of Law. The lecture was held on 22 April, 2021 with the following topic: "Gender and Racial Discrimination and American Law".The LAWGEM team members from all partner universities were invited to attend this extremely interesting lecture. Prof. Dr. Ivana Krstic chaired the session and during the discussion she spoke about the LAWGEM project and addressed Prof. Dr. Dragica Vujadinovic with an idea to present and promote additionally Law and Gender future master`s program. The whole event was very useful and fruitful for disseminating the LAWGEM project among numerous international academic and professional public. Professors Krstic and Vujadinovic invited Prof. Dr. Wang to take part in further LAWGEM activities and later on to take part in giving lectures at Law and Gender master`s study program. Professor Wang accepted very enthusiastically their invitation.
A. Wing – Gender and Racial Discrimination and American Law – Presentation

Zoom video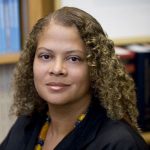 Prof. Dr. Adrien Wing is the Associate Dean for International and Comparative Law Programs and the Bessie Dutton Murray Professor at the University of Iowa College of Law, where she has taught since 1987. Additionally, she serves as the Director of the University of Iowa Center for Human Rights, as well as Director of the France Summer Abroad Program. She has previously served as the Associate Dean for Faculty Development and the on-site Director for the London Law Consortium semester abroad program. She has been, in addition, a member of The University of Iowa's interdisciplinary African Studies faculty and North Africa/Middle East faculty groups. During fall 2002, she was a visiting professor at the University of Michigan Law School. During fall 2011, she was the Bette and Wylie Aitken Distinguished Visiting Professor at Chapman Law School. After receiving her Bachelor of Arts degree from Princeton with high honors in 1978, Professor Wing earned her Master of Arts degree in African studies from UCLA in 1979. She obtained her Doctorate of Jurisprudence degree in 1982 from Stanford Law School, and was awarded the Stanford African Student Association Prize. While in law school, she served as an editor of the Stanford Journal of International Law, as an intern with the United Nations Council on Namibia, and as Southern Africa Task Force Director of the National Black Law Students Association. Prior to joining the College of Law faculty in 1987, Professor Wing spent five years in practice in New York City with Curtis, Mallet-Prevost, Colt & Mosle; and with Rabinowitz, Boudin, Standard, Krinsky & Lieberman, specializing in international law issues regarding Africa, the Middle East, and Latin America. She also served as a representative to the United Nations for the National Conference of Black Lawyers. Professor Wing has advised the founding fathers and mothers of three constitutions: South Africa, Palestine, and Rwanda. She organized an election-observer delegation to South Africa, and taught at the University of Western Cape for six summers. She also advised the Eritrean Ministry of Justice on human rights treaties. Author of more than 140 publications, Wing is the editor of Critical Race Feminism: A Reader and Global Critical Race Feminism – An International Reader, both from NYU Press, as well as co-editor of the Richard Delgado Reader. Her US-oriented scholarship has focused on race and gender discrimination, including autobiographical narratives and such topics as Critical Race Feminism and poverty, and the future of Critical Race Theory. Her international scholarship has emphasized two regions: Africa, especially South Africa; and the Middle East, in particular the Palestinian legal system. International law and Feminism, International law and Race, and the Arab world and women's rights are among the topics of articles.